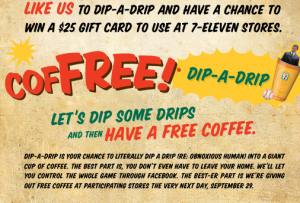 'Like' 7-11 on Facebook to Dip a Drip and possibly WIN a $25 Gift Card!
Dip a Drip is dunking a "Drip" (annoying person) in coffee. Choose from such favorites as 'know-it-all', 'over sharer' and 'horrible boss' to name a few!
Plus get all you need to know on enjoying a FREE medium Coffee on the 29th!
*The Free Coffee is Sept 29 Only
Cheers ☺
~ Emma
More Related Offers: