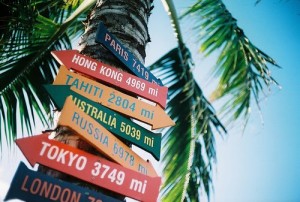 How would you like to travel to Paris? Shanghai? Australia? I love to travel, but it can be so tricky trying to decide what place to go to. With Air Canada's latest contest, you won't have to make that tough decision because they are giving you the chance to make your way all around the world!
Simply get a friend to access your invitation from the Air Canada Facebook page and you will be entered to win the grand prize of 200,000 Air Miles. That's enough Air Miles for two Around the World flights, as well as top tier statuses!
I think I would head to Europe first. What place have you been dying to see?
This contest closes on July 20th.
Enjoy!
-Caitlin
More Related Offers: