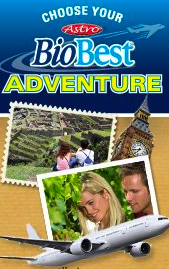 For many of us, the closest we get to a tropical location is the screensaver on our computer. How would you like to see those palm trees in person and stick your toes in that turquoise water? I'm getting myself excited about this contest!
Enter now for your chance to win 1 of 7 amazing vacations with Astro BioBest yogurt.
If your dream vacation is more of the rustic or adventure type you are in luck because there are 7 great vacation variations that will surely suit the needs of any aspiring traveller. 🙂
I hope I win the Pampered in Paradise vacation, it's in Mexico and includes $2,000 worth of spa luxury!
Good Luck!
-Caitlin
More Related Offers: