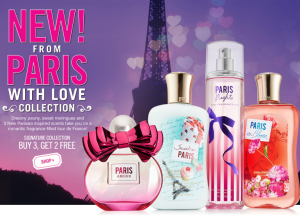 Do you love Bath & Body Works products? Who doesn't right! They have the perfect scents for every season, so naturally I'm getting excited for the Fall line that is coming out! But right now I am really into their Parisian line.
To celebrate the release of this line, you have the chance to win a $100 Bath & Body Works gift card. Simply upload a Parisian picture on their Facebook page for the chance to win!
This contest closes on August 27th.
Enjoy!
-Caitlin
More Related Offers: