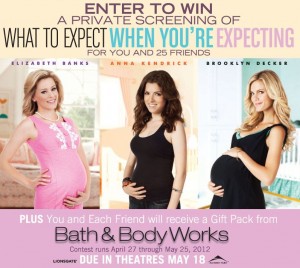 "Look at her, she is wearing six inch heels. She's like a magical pregnancy unicorn."
I have seen the trailer for What to Expect When You're Expecting? a couple of times and I have to say it looks hilarious!
"Like" Bath and Body Works Canada on Facebook and enter to win a private screening of the movie for you and 25 friends as well as a gift pack from BBW for everyone!
My sister-in-law offered me the book to read, but I don't know how my fiance would react if he say that book on my nightstand. Don't want to give the wrong impressions. 😉
This Contest Closes on May 25.
Enjoy :),
-Sandra☆
See What to Expect When You're Expecting in a Private Screen
More Related Offers: