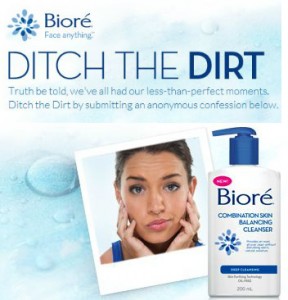 During a family BBQ a few years back, everyone was outside and I went into the kitchen to grab some ketchup not realizing that someone closed the patio door. When I turned around I walked right into the glass with everyone watching. It was so embarrassing! I had to walk around with kleenex in my nose for an hour.
We all have less-than-perfect moments, and Biore wants you to share your anonymous story in their Ditch Your Dirt contest for a chance to win 1 of 250 bottles of the new Biore Combination Skin Balancing Cleanser.
Also, if you are one of the first 10,000 participants you will receive a free 7ml sample sachet!
Just "Like" Biore Canada on Facebook for your chance to share your story!
This Contest Closes on June 29.
Enjoy :),
-Sandra☆
Print your Joe Fresh coupon here
More Related Offers: