SORRY! This Contest has Closed!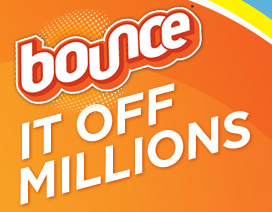 Do you have a question you just can't figure out? Maybe you are deciding on where to go for your Honeymoon, or what type of car to get?
Bounce wants you to ask your question on their Facebook page. If they think you posed a great question, they will feature it on their Facebook page and give you a Bounce prize pack! Each of the four prize packs they are giving away consist of great Bounce products that will keep your clothes smelling fresh and your wallet happy!
I just got a new puppy and the little guy still doesn't have a name. I narrowed it down to two names and asked about them on the Bounce Facebook page, hopefully this makes my decision a little easier!
This contest closes on September 19th.
Start Bouncing It Off Millions to Win
Good Luck!
-Caitlin
More Related Offers: