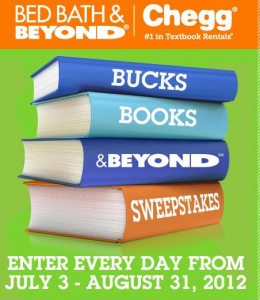 Are you or your teen heading off to University or College in the fall? Now is the time to start thinking about decorating the dorm room and those pesky tuition fees!
When Bed, Bath & Beyond say beyond, they really mean it! Now is your chance to win 1 of 300 grand prizes that will get you back-to-school ready!
Enter now for the chance to win four years worth of textbooks, a $2,500 scholarship and a $5,000 Bed, Bath & Beyond shopping spree!
I'm a student so this contest is right up my alley. I would love to get a little help in the tuition and books department, and who wouldn't want a bedroom makeover too?!
This Contest Closes on August 31.
Enjoy!
-Caitlin
More Related Offers: