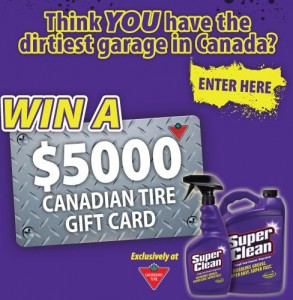 Normally we keep our garage pretty clean, because I park my car in there. But since spring started we have been doing a lot of lawn and garden work so our garage has really been taking a beating. On the weekend my fiance couldn't stand the mess anymore and spent the afternoon cleaning it up. If I had known about this contest, I would have taken a picture of it first!
Super Clean is giving away a $5,000 Canadian Tire gift card to Canada's Dirtiest Garage!
All you have to do if fill out a ballot for one chance to win. You can gain bonus entries but submitting a photo, sharing a friend's email and putting in a SuperClean UPC code.
That would have been handy when we were at Canadian Tire this weekend picking up stuff to organize our garage.
This Contest Closes on September 14.
Enjoy :),
-Sandra☆
More Related Offers: