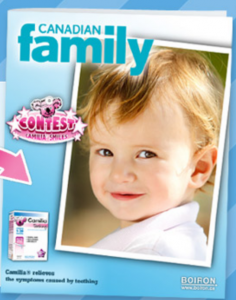 Boiron invites you to enter the Camilia Smiles contest and create your own Canadian Family magazine cover – featuring your child!
Simply upload a picture of your child on their web page and share the photo with as many friends as possible. The lucky winner will have their photo as a mock cover of Canadian Family!
There are $1000 in prizes to be won so you don't want to miss out on this great opportunity!
This contest closes on May 31st.
Make Your Way to the Canadian Family Website Here
Good Luck!
-Caitlin
More Related Offers: