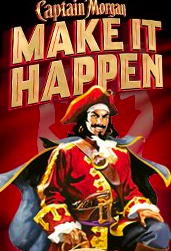 I think we have all had those moments where we think 'Oh wouldn't it be nice if we had backstage passes' or 'imagine renting out that beautiful cottage for the weekend?'.
Well it's time to make these dreams a reality. Head to the Captain Morgans Facebook page and share your idea that you would like to see happen. There are monthly winners but you should update your entry daily to increase your chances of winning!
I'm sure this contest entry wouldn't be too hard to think up! I already have a ton of potential ideas. A limo to a free concert and VIP passes would probably be my number one! What about you?
This contest closes on June 30th.
Good Luck!
-Caitlin
More Related Offers: