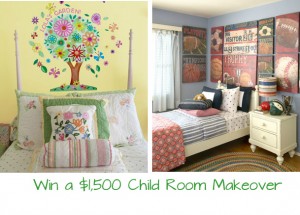 Do you have a little one on the way and need to transform the work out storage room into a nursery? Or maybe it's time to update that nursery into something a bit more age appropriate?
ParentsCanada is giving you the chance to win a $1,500 child room makeover. The lucky winner will receive $1,500 worth of products from YouNameItBaby and a photo in the upcoming issue of ParentsCanada!
I don't have any little ones But I will definitely be passing on this to all my friends that do! What kid wouldn't want the chance to sleep in an enchanted forest?
This contest closes on August 15th.
Enjoy!
-Caitlin
More Related Offers: