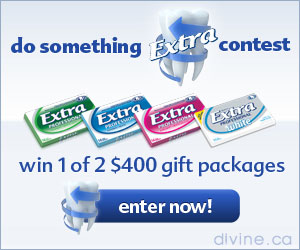 SORRY! This Contest has Closed!

One of my pet peeves is bad breath. But this contest leaves you free to have as much garlic and onion at lunch time as you would like! Never get stuck in an awkward situation again thanks to Extra and Divine.ca!
Enter to win 1 of 2 $400 Extra Gift Packages!
Gift pack includes Extra Professional gum, an electric toothbrush and many more goodies to keep your mouth feeling fresh and minty!
Also, during the month of April part of the proceeds generated by Extra Professional will go directly towards the purchase of equipment and dental supplies in developing countries!
Chew for a good cause, now I can do that! 🙂
This Contest Closes on May 11.
Enjoy :),
-Sandra☆
More Related Offers: