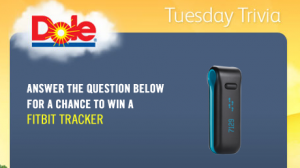 Tuesday's are kind of a crummy day, it's isn't the start of a fresh week, it isn't hump day and it definitely isn't Friday. It's time to make Tuesdays a little more exciting thanks to Dole!
Head to their Facebook page where you will be able to answer one simple question and enter to win a cool FitBit tracker!
The question wants to know what veggie you would eat if you could only eat veggies for the rest of your life. That's a tricky question because they are all so good. I love carrots but then I might start to turn orange! What veggie would you pick?
Good Luck!
-Caitlin
More Related Offers: