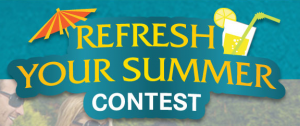 We are right in the midst of summer (yay!), how are you spending your time? Do you love having friends over to hang out by the pool or for a BBQ?
Oasis is giving you the chance to be completely stocked up at your next summer gathering. Enter now for the chance to win an outdoor Oasis-Molson fridge filled with Oasis juices!
I just love Oasis juices. The tropical flavours are perfect to mix with other juices and drinks giving you the perfect summer drink. 🙂
This contest closes on July 31st.
Enjoy!
-Caitlin
More Related Offers: