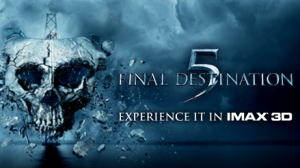 The Final Destination series has been going on for quite some time now and I am constantly amazed at the unique (and cringe worthy) ways that they kill off the actors one by one. So it's no surprise that I'm itching to see the final installment of the series!
There is no better way to see this jaw dropping film than in IMAX 3D (I can only imagine the stuff that would be flying out to the audience!). Enter now to get in on the Final Destination action! The winner will get a DVD pack of all the previous movies and 5 IMAX ticket vouchers to see the latest one.
This contest ends on August 30th.
Good Luck!
-Caitlin
More Related Offers: