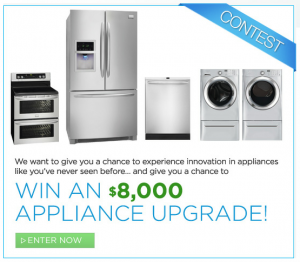 Does your kitchen need a little upgrade?
Frigidaire is giving you the chance to win some fabulous appliances so that you can get that kitchen makeover you've been dreaming of.
The $8,000 appliance upgrade includes a fridge, washer and dryer, dishwasher and an oven!
I would love to update my dishwasher to the OrbitoClean washing cycle. It has a different spray pattern to give you those shiny clean dishes you see in the commercials! 🙂
This contest closes on June 3rd.
Good Luck!
-Caitlin
More Related Offers: