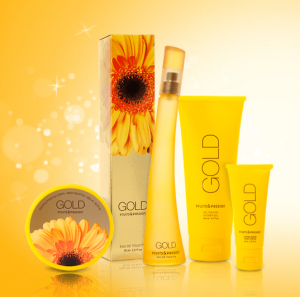 Elegant. Warm. Sensual. Gold surrounds you with an aura of seduction.
That is how Fruits & Passion describes their Gold line. Interested in giving it a try? Enter now for the chance to win a set of GOLD products.
I am very interested in trying out the fragrance. It has notes of orange blossom, sandalwood musc and Magnolia golden apple. 🙂
This contest closes on August 31st.
Enjoy!
-Caitlin
More Related Offers: