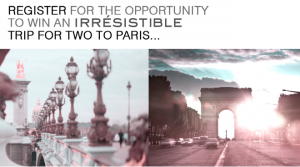 Would you like to have a romantic evening at the Eiffel Tower? or maybe tour the L'Arc de Triomphe? Or maybe you want to update your knowledge on art at the Louvre? I'm sure there are many reasons why you want to tour Paris and finally you have the chance!
Givenchy is giving you the chance to win an irrésistible trip for two to Paris. Also, when you sign up you will be able to receive their newsletter to stay informed all year long about exciting news on their fragrances!
I've been planning a backpacking trip to Europe with my friends for a while now but it would definitely be nicer to be able to tour Paris in a little more style.
This contest closes on May 31st.
Good Luck!
-Caitlin
More Related Offers: