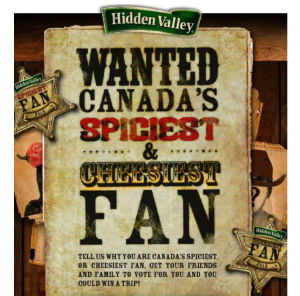 Did you know that this year marks the 100th anniversary of the Calgary Stampede? That means that the shows, events and fun activities are going to be bigger and better than ever before. If you are like me and attending the Stampede requires a plane trip and accommodations (which may not be in your budget) then this is the contest for you!
Hidden Valley wants to know why you are Canada's spiciest or cheesiest fan and you could be be celebrating the Stampede's 100th anniversary in person.
I actually didn't know much about the Calgary Stampede until I stumbled upon this contest. Now that I've read about it I definitely would like to attend! Looks like the winner would have to dust off those cowboy boots and hat!
This contest closes on June 1st.
Win a Trip to the Calgary Stampede with Hidden Valley
Good Luck!
-Caitlin
More Related Offers: