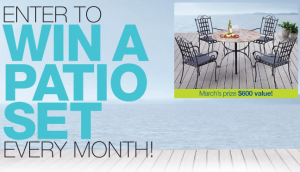 Summer is quickly approaching and that means many patio parties, socializing and delicious outdoor meals will be happening very soon!
If you would like your backyard to be the host of best block parties around then you should definitely enter to win a patio set from the 2012 Home Outfitters Spring Collection!
I'm currently living in a student home and the previous tenants decided it would be a good idea to leave a patio set without the cushions for any of the chairs. I think we could definitely update our uncomfortable metal rod chairs to something a little more classy thanks to Home Outfitters! There's a couple really cute patio's on their site, feel free to perouse their 2012 collection!
This contest closes on May 31st.
Good Luck!
-Caitlin
More Related Offers: