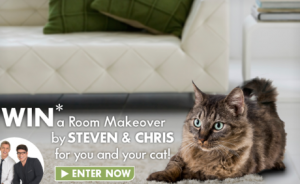 Do you have a room in the house that could use a little revamping? Thanks to Indoor Cat, it could be updated with a $10,000 room makeover!
Enter now for this great chance to win. You could even put in a couple scratching posts and whatever else your cat's favourite toys are!
While you are on their site feel free to ask a couple questions concerning your cat to the indoor cat expert, Dr.Margie or great tips for Steven and Chris! This is your one stop for everything cats! 🙂
This contest closes on July 31st.
Good Luck!
-Caitlin
More Related Offers: