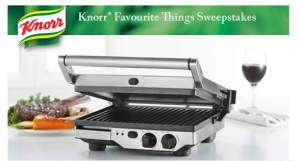 Looking for a way to spice up those sandwiches? Or maybe you want to enjoy BBQ season all year long?
Knorr has a Breville Ikon Removable Plate Grill up for grabs. It's not only perfect for making those savory panini's, but it can also be used to grill your favourite vegetables, meat and much more, when you want and where you want! No outdoor grill needed!
This is the perfect excuse to get a kick start on that summer diet. There are so many delicious and healthy options you can create with this handy grill!
This contest closes on June 25th.
Good Luck!
-Caitlin
More Related Offers: