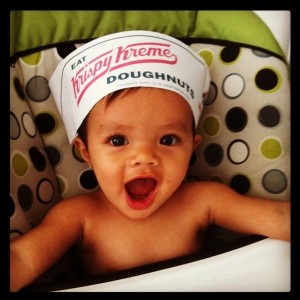 ON YOUR HEAD, HATS SET, GO!
In celebration of their 75th Birthday, Krispy Kreme have an amazing Sweepstakes going on. Their iconic paper hat could be our ticket to globe trotting fun.
Visit a Krispy Kreme location or Click Here to Print Off one of their famous paper hats. Then take a picture of yourself wearing it anywhere in the world. We can submit our best picture and our entry could be voted to WIN a trip for two to any Krispy Kreme location on the planet.
Any chance I have to show off some of the cute babies I'm lucky enough to have in my life is well worth it in my eyes! Plus, I've always dreamed of visiting Australia – if I win I'm going to visit the Krispy Kreme in Melbourne! Hat Hat Hooray!
If you see my pic, give it vote 🙂
*This Sweepstakes closes on August 19th!
Get in to WIN a Krispy Kreme Dream Vacation today
Cheers ❧
❦ Emma
More Related Offers: