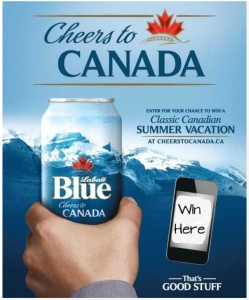 Every year my family would drive down to Niagara Falls to enjoy some sight seeing, walk Clifton Hill and pop in and out of the shops. It was a fun experience and a great memory.
What is your Classic Canadian Summer Vacation? Depending where you are in the country, it may be to visit Peggy's Cove or take a drive through the Rockies.
Well, Labatt Blue is giving away 3 Grand Prizes, consisting of a trip for two to one of the following destinations: Peggy's Cove, Niagara Falls, The Rocky Mountains or an alternate location in Canada. Return airfare, 4 nights accommodation and spending money is included!
Each Grand Prize is worth $5,000.
I would love a trip to see Peggy's Cove and the other tourist spots in Nova Scotia, since I have never been there before.
This Contest Closes on September 3.
Enjoy :),
-Sandra☆
Win a Classic Canadian Summer Vacation
More Related Offers: