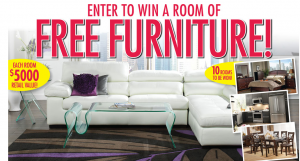 Do you want to update your family room but have no idea where to start? It can be pretty overwhelming when you know you have to restart from the bottom up because there are so many things to think about. Colours, patterns, leather, suede.. the options are endless!
If you want a complete room make over without having to stress over what shade of white looks best with your hardwood, you have come to the right contest. Leon's is giving you the chance to win to a room of free furniture. So whether you need a new kitchen, dinning room or family room you could win it today!
All you need to do is send in a photo of your not-so-great looking room and you will be in the running to win. There are 10 rooms of furniture to be won so don't miss out!
This contest close on February 22nd.
Good Luck!
-Caitlin
More Related Offers: