This contest has CLOSED.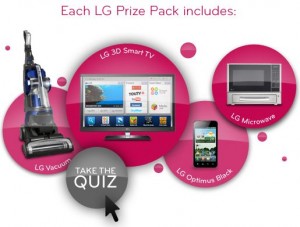 LG is giving you a pop quiz and you could win a fantastic prize pack if you get it right!
Which of the following products does LG make? Hint: the answer is all (click all of the product boxes) 😉
Grand prize includes: a LG 3D Smart TV, a LG Vacuum, a LG Microwave and a LG Optimus Black Phone!
What an awesome prize that would be to win!
This contest ends on November 17.
Enjoy :),
-Sandra☆
More Related Offers: