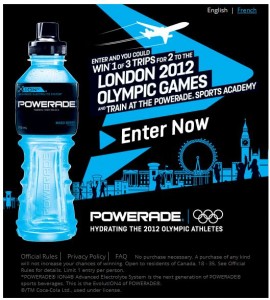 Going to the Olympics is a once in a lifetime opportunity. I would have loved to go to the Vancouver Games but traveling is just so expensive. If you are like me and missed out on the last Games, then you still have the chance to see your favourite athletes compete in the sports you love to watch.
Head to the Powerade Facebook page where you will be able to enter to win 1 of 3 trips for you and your closest friend to the London Olympic Games. You will also get the chance to train at the Powerade Sports Academy.
What is your favourite part of the summer games? I personally love the sprints and swimming!
This contest closes on August 1st.
Good Luck!
-Caitlin
More Related Offers: