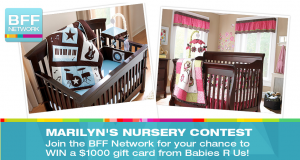 You never really realize how expensive it has to have a newborn until you have actually done it yourself. Just when you think you have gotten it all, something else comes up.
Marilyn wants to help you create your dream nursery in her newest contest.
Enter to win a $1,000 Babies R Us Gift Card.
All you have to do is become Marilyn's BFF by signing up for the Marilyn Denis Show's BFF Network and you will be automatically entered to win!
This contest closes on November 9.
Enjoy :),
-Sandra☆
More Related Offers: