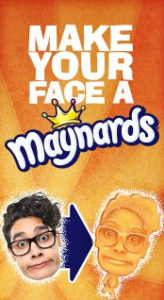 We all love those sweet treats every once and a while. It doesn't matter if you prefer the Swedish Berries, Sourpatch Kids or Sour Cherries because your face could be on all of them!
Maynards is giving you the chance to win one sweet prize. All you have to do is upload a picture of yourself on their Facebook page and transform it into a delicious gummy treat.
The lucky winner will get a cash prize of $5,000, royalties from the unique candy sales and a trip to Toronto for a photo shoot.
Having people around the world munching on your face? Sounds like an oddly awesome contest!
Good Luck!
-Caitlin
More Related Offers: