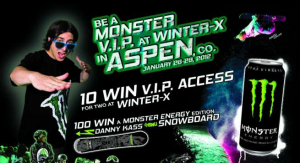 Take a second, close your eyes and picture this:
You are in beautiful Aspen, carving through the freshly fallen snow on your skis or snowboard, relaxing in your beautiful ski cabin and spending some quality shopping time in all the beautiful boutiques that Aspen has to offer with your $1000 in cash you can spend, and finally, partying it up at the most exclusive Monster Party.
Although this may seem like a far off dream, it can soon become a reality thanks to Monster Energy Drink. They are giving you the chance to win 1 of 10 of the amazing prize packs that include everything above and so much more.
So pack your skis, mitts and best party outfit and enter for your chance to win! 🙂
This contest ends on December 30th.
Good Luck!
-Caitlin
More Related Offers: