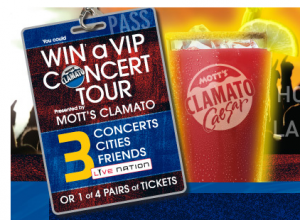 Are you a concert buff? Whether it's rock, pop, classical or jazz, going out to concerts with friends or family is always a memorable night out.
The only thing about concerts is that they can be a little pricey. Between the tickets, parking and snacks, I usually revert to watching their shows online after!
Enter now for the chance to win a VIP concert tour to 3 concerts in 3 cities with 3 friends compliments of Mott's Clamato. I've never been a VIP before, especially at a concert, sounds like a lot of fun!
I wonder what the concerts and locations will be! Also, how will I pick those three friends?
This contest closes on August 17th.
Good Luck!
-Caitlin
More Related Offers: