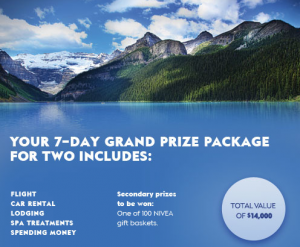 Are you in need of a little vacation? A little R&R sounds very appealing to me!
Nivea is giving you the chance to win a trip to beautiful Banff! All you have to do is enter your skin type on Nivea's Facebook page to be eligible to win. Either dry, oily or normal and you could be indulging in spa retreats, lodging and a free car rental in Banff.
I went to Banff a few years back and I absolutely fell in love with it. The beautiful water and nature had me wanting to go back again, my wallet just hasn't allowed me to do so!
There are also 100 great runner up prizes to be won. Click on the link to find out what they are!
This contest closes on May 4th.
Good Luck!
-Caitlin
More Related Offers: