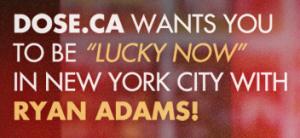 Listening to a CD or your iPod is always fun, and great when your stuck in traffic, but there is nothing that compares to listening to the song you constantly have on repeat in person!
If Ryan Adams is a top played artist on your iPod you are in luck because Dose is giving you the chance to see him live in concert.
I personally love When the Stars Go Blue, and it would be amazing to sway my cell phone back and fourth while listening to him play it live!
I haven't been to New York in ages so it would also be a great chance to visit the city!
This contest closes on November 7th.
Good Luck!
-Caitlin
More Related Offers: