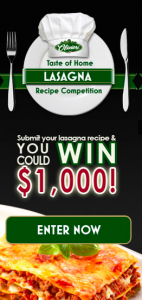 Do you have an award winning lasagna recipe that your family and friends beg you to make for the block party or birthday celebrations? If so then you should share your famous recipe to Olivieri. You will have the chance to win $1,000!
My mom makes the most amazing spinach lasagna, I'm going to mention this contest to her so she can enter to win! Hopefully she will share some of the money because I was the brilliant one that found out about the contest! 😉
This contest closes on March 22nd.
Good Luck!
-Caitlin
More Related Offers: