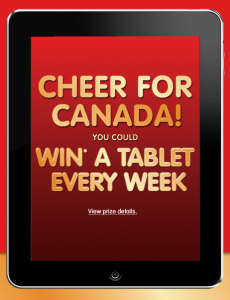 Have you been thinking about purchasing a new tablet? Whether it's for work, school or simply to have at home, tablets are a great way to keep organized while on the go.
Cheer for Canada in the coming Olympics and enter to win a tablet every week. Each of them are valued at $600, which is $600 more than I have to spend on a tablet. 😉
I really like that we get chances every week to win! Are you excited for the Olympics to start? What other countries are you cheering for?
Here are a couple UPCs for you ladies to use when entering! 027000480922 or 058807484929.
This contest closes on September 7th.
Enjoy!
-Caitlin
More Related Offers: