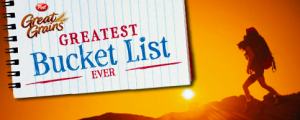 This contest has CLOSED.
I've actually never put much thought into it, but having a Bucket List is probably a pretty good idea. Putting those dreams about my great adventures to paper would probably bring them closer to reality. Do you have a Bucket List? What is your most desired task to be accomplished? Sky diving? Swimming with sharks?
Tell Great Grains Canada what your number one to-do on your bucket list is and they just might make it a reality by giving you $5,000.
Now that I think of it, I would love to scuba dive in the Great Barrier Reef. Oh how much fun that would be!
Good Luck!
-Caitlin
More Related Offers: