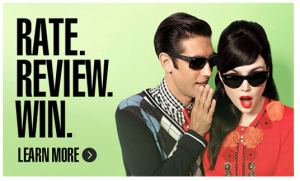 If you would love to have a $500 gift card to spend at Sunglass Hut, thein this is the Sweepstakes for you!
What you need to do for a chance to WIN is really quite simple.
➀ Find your style of sunglasses.
➁ Write a review on the glasses you have chosen.
➂ Provide Sunglass Hut with your contact details.
I've had my eye on a certain pair of Prada shades but have never been able to justify spending that kind of cash on myself! Well now I might WIN them, or a gift card to buy them anyways! 8)
☺
~ Emma
More Related Offers: