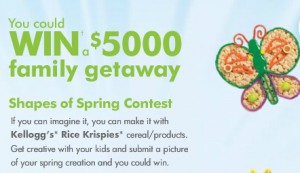 Even as an adult, I still love chowing down on a Rice Krispies treat every now and then, even if they are from Starbucks!
If you are a kid at heart like me, or you have kids of your own that simply love the gewy goodness of Rice Krispies, you will definitely be interested in this contest.
Create the most unique and incredible Rice Krispie treat for your chance to win a family getaway.
What types of things would you create? When I was younger we used to put liquorice on the sides and make the Rice Krispies into spiders. 🙂
This contest closes on June 7th.
Good Luck!
-Caitlin
More Related Offers: