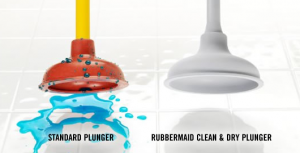 The Clean & Dry plunger helps keep your bathroom cleaner and more sanitary. But how exactly is it different from your normal plunger? Your traditional plunger picks up bacteria and germs that can spread when dripped on your bathroom floor.
The Clean & Dry plunger is protected by a never wet coating and the beads of water will roll off instantly!
Enter now for your chance to win this fancy plunger thanks to Rubbermaid. There are 6 up for grabs and entering to win is fast and easy!
This contest closes on July 20th.
Good Luck!
-Caitlin
More Related Offers: