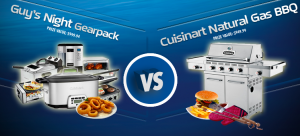 Would you like to win a Guy's Night Gearpack (shown on the left of the photo) or a Cuisinart Natural Gas BBQ?
Vote for your favourite and then enter your details to win it! Either way, these are great prizes for that end of summer BBQ you were thinking of hosting!
I voted for the Guy's Night Gearpack since there are some really great kitchen appliances I would love to try out like the pannini maker or the slow-cooker!
This contest closes on September 1st.
Enjoy!
-Caitlin
More Related Offers: