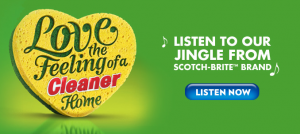 How do you feel about cleaning? Is it like pulling teeth and it's put off as much as possible, or do you find cleaning to be relaxing?
Let Scotch Brite know your verdict about cleaning and you will be entered to win $100 worth of Scotch-Brite products and a $100 gift card.
I personally love to clean, as long as it's under the right circumstances – if the mess wasn't made right after I had just cleaned, I can play my favourite songs and I'm not tired, cleaning can actually be quite calming!
This contest ends on June 18th.
Good Luck!
-Caitlin
More Related Offers: