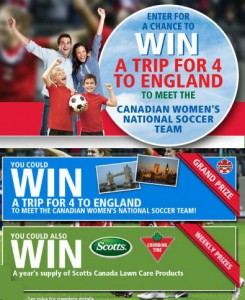 I've always considered England the launching point of Europe, because once you are there the European adventure begins! So whether you want to see Big Ben or travel to the surrounding areas, this is the contest for you!
Enter to win a family trip for 4 to England! There you will get to meet the Canadian Women's National Soccer Team and spend 5 nights in this historic city!
I think this would be a great surprise for my parents if we won. 😉
There are also 12 weekly prizes of a year's supply of Scoots Canada Lawn Care Products! My fiance would love to win that because he spends so much time manicuring the lawn. 🙂
This Contest Closes on June 7.
Enjoy :),
-Sandra☆
Enter the Scotts Soccer Experience Contest
More Related Offers: