This contest has CLOSED.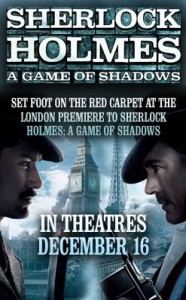 Robert Downey Jr. and Jude Law make a great Sherlock Holmes and Watson in my opinion. They really work well on the screen together and make for a very entertaining experience.
The next edition of the Sherlock Holmes movies, A Game of Shadows, is coming out very soon and you could be in London for the premier!
Just enter CTV's London Premiere contest for your chance to win fight, accommodation, tickets to the premiere and VIP access to the red carpet!
I wonder if I could get close to Robert Downey Jr. 😉
Enjoy :),
-Sandra☆
More Related Offers: