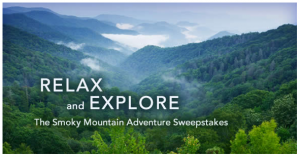 I haven't traveled in the United States nearly as much as I would like to, so it is no surprise that I haven't made it to North Carolina to see the Great Smoky Mountains.
They appear to be a breath-taking sight so I didn't hesitate entering this contest.
You could win a weeks worth of accommodation, learning experiences, dining and golf vouchers and a Visa gift card.
What an amazing experience that would be!
Enjoy :),
-Sandra☆
More Related Offers: