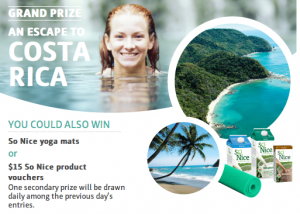 Have things at work been getting you down? Or maybe you feel like you have been running around to events, appointments and meetings and haven't had the time to sit down and breathe. It's time to put down that planner and coffee and exchange it for sunscreen and a margarita.
So Nice is giving you the chance to win a great escape to Costa Rica so you can finally relax and rekindle your relationship with your flip flops. There are also secondary prizes of yoga mats (if you can't make it to the beach then we'll just have to bring the relaxation to you!) and $15 worth of So Nice products.
This contest ends on June 10th.
Good Luck!
-Caitlin
More Related Offers: