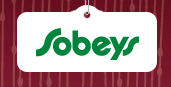 This contest has CLOSED.

Christmas is quickly approaching and Sobeys knows that having those family get together's can get pretty pricey, especially when you are feeding those six cousins who seem to eat more in one meal than you do in an entire day.
Ease a little of the grocery shopping pain thanks to Sobeys and their contest where they are giving away a $2,000 gift card. And you don't have to worry about not winning the first prize because there are also great secondary prizes that add up to $5,000!
Being a student means that I'm on a pretty tight budget. My meals usually include anything No Name or anything in bulk. It would be great to know I would be able to buy the real brand name products and maybe a little bit more!
This contest closes on January 3rd.
Good Luck!
-Caitlin
More Related Offers: