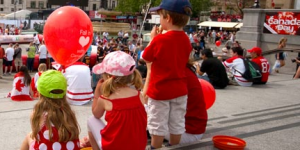 Spending Canada Day in Canada is one thing, but how would you like to be part of the biggest Canada Day celebration outside the country?
Each year the party in London gets bigger and bigger and this year, Molson Canadian wants you to get in on the fun.
Enter now for the chance to win a trip for 2 to London, England to celebrate our countries 145th birthday. It would be so interesting to meet other Canadians and how they celebrate our nations birthday!
This is also a great chance to tour England a bit since you are already down there. 🙂
This contest closes on June 21st.
Good Luck!
-Caitlin
More Related Offers: