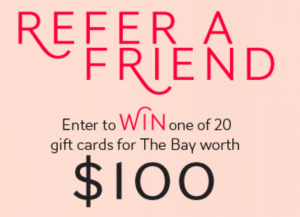 One of the great things I love about The Bay is that there is something for everyone. My mom and I can both head in The Bay and find stuff we love in completely different sections!
Get all your favourite summer styles at The Bay this season for less thanks to their contest to let you win 1 of the 20 $100 gift cards.
Even if you don't refer a friend you are still able to enter to win. Friend referrals will only give you extra chances to win!
This contest closes on May 19th.
Good Luck!
-Caitlin
More Related Offers: