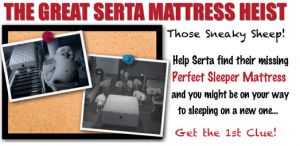 The Serta sheep are on the loose and they have found out that with the latest Serta mattresses, we don't need to count sheep to fall asleep.
The sheep have stolen all the mattresses, and it's up to you to find out where the culprits are.
Head to the Serta Facebook page and use your detective skills to crack the clues and find the sheep.
The lucky winner will enjoy 2 Memory Foam Pillows and a Queen Size Luxury Fleece Blanket!
This contest closes on June 7th.
Good Luck!
-Caitlin
More Related Offers: